Dear Beloved friends who has been part of raising support for the roofing at the school.
I can only say, that as soon as we had the money things went fast. We have so good handymen that knew what to do. In only 2 weeks the roof was on.

Look at the pictures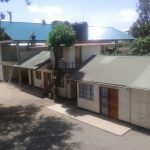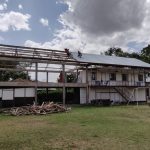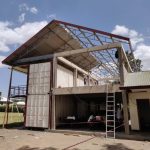 The next step forward is to make stair and a railing around the whole top floor.

It will be an open dining area, but we plan to put some canvas that can be rolled up and down on the sides if it should rain or get too cold. But most of the year it is hot.

The dining room is very big almost 400m2.
We have almost 300 students.
We are really looking forward to it being finished as then we really have a beautiful and amazing school.

Once again from the depth of our hearts we want to thank you so much for once again helping us out.
There is no one like you to help when we ask for help! But the Lord will richly pay you back and give you a huge reward in Heaven.

Torkild is away on a children's campaign this week. Yes, he loves to get out there to the children and share the gospel even if it's very primitive.
He usually says that when he is out that he really enjoys coming back home to a clean toilet and running water in the shower.

I wish you all well dear friends

Love Tabitha.