Torkild and his team went for a crusade to a village called Mjawa south of Dar Es Salaam.


They managed 1.600km trip without any major problems such as flat tires. This is very unusual for such a long trip. They saw several truck accidents on the way, and some of them very serious with probably some deaths. The trip lasted 2 days, so they spent many days in the car.
The village is Moslem one, with around 4.500 inhabitants and  only a few Christians. The church which invited us only has 66 members. The Pastor was very happy about us coming.  Already while he was busy putting posters up , a mother with her children came and asked him to pray for them to be saved.
Torkild was really worried about whether the children would come since it was Ramadan, which is a very important holyday for the Moslems. But thanks to our Lord 600 children showed up, and also adults.
The children listened very carefully, and were very interested in what was told.
The doll Kadogo really makes a different, and is such a fantastic tool to get the message out to the children.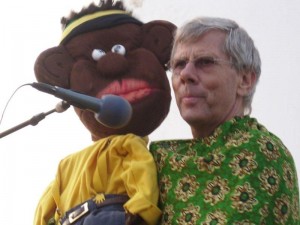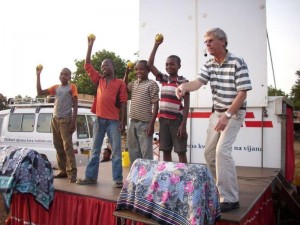 Many children wanted to give their lives to our Lord Jesus, and after the films lots of people came to be prayed for.
The Christians were so happy and grateful for this week, which had meant so much to the village and helped bring out the Good News to them..
It was a happy, but very tired Torkild, who came home. And we thank and praise our Lord Jesus for this safe and wonderful trip. All honors to Him.