With this greeting I would like from the dept of my heart, to say thank you so much for the donations that has been sent to us, to help Mama Oberline to finish the building of the two rooms. Everything is now finished and they have moved in.

Mama Oberline thinks she is dreaming. It is so hard for her to understand that it is true that she has been given this big help so that they could finish the building. She is so thankful for this help that you have given her and she is praying to the Lord that he will bless you and repay you so that you may not need anything.

I went out there to visit one day before they had painted outside. I was so lucky because on this day all the children were at home. So I could get a picture of the whole family together.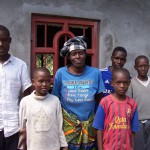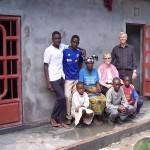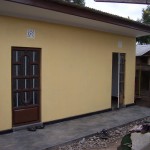 The oldest by the name of Adam who is studying to become a mechanic took our hands many times and then he thanked us for the great help that we had given to his mother, and then he shed a few tears. I would like to send this THANK YOU on to you that were willing to give to this project. May the Lord richly bless and repay you.

The house is now finished, there is glass in the windows, the house is painted inside and out. They have been given bunk beds and new mattresses including a "jiko" which is a stove for wood.

Once again thank you so much for your great help.

Love
Tabitha og Torkild