Christmas 2020
Written 13.12.2020 13:10 under Archive
Dear Friends

We want to wish you all a merry Christmas and a blessed new year.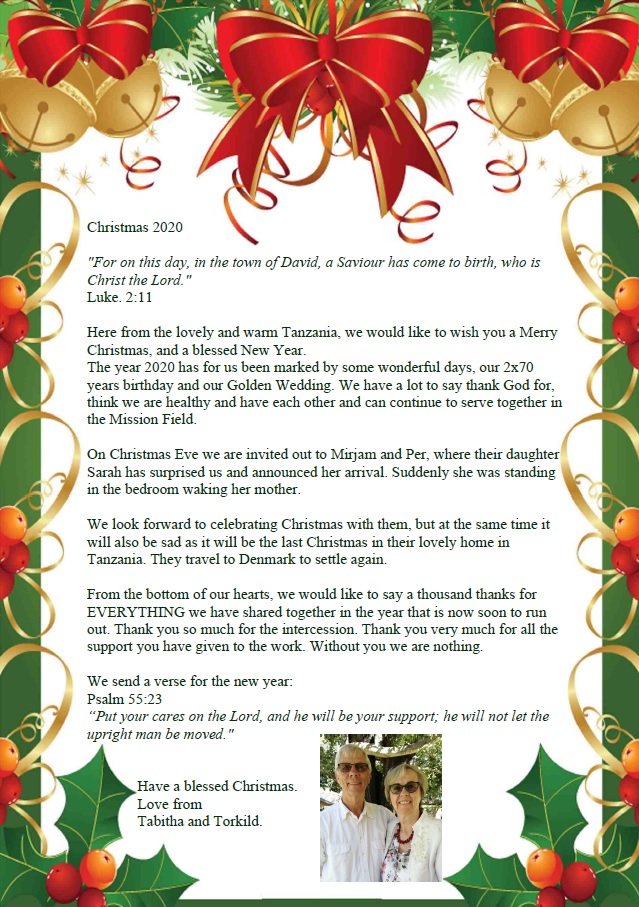 Christmas 2020
WP_Post Object
(
    [ID] => 5080
    [post_author] => 1
    [post_date] => 2021-09-19 13:30:18
    [post_date_gmt] => 2021-09-19 11:30:18
    [post_content] =>  I den uge, hvor Torkild var af sted på børnekampagne, skete der noget, som rystede os dybt. During the week when Torkild was away something happened that shook us deeply.  
 
Vores tyske venner og naboer, Rosy og Friedhelm, var blevet syge (I husker sikkert, at vi mange gange har skrevet om Friedhelm, som har bygget adskillige kirker sammen med Torkild i store dele af Tanzania). Rosy skrev til os for at høre, hvordan vi havde det, for de havde fået feber og følte sig meget dårlige. Deres tjenestepige havde fået konstateret covid-19 og var meget syg. Tilsyneladende havde hun smittet Rosy og Friedhelm.
 
Jeg foreslog straks, at de skulle søge læge, men Rosy sagde, at Friedhelm var så dårlig, at han ikke ville kunne sidde i en bil for at komme hen til lægen. Det lykkedes at få lægen til at komme hjem til dem. Friedhelm blev indlagt på et missionshospital ca. 150 km fra Arusha, hvor der også arbejder læger fra Vesten.
 
Dagen efter Torkilds hjemkomst ringede Rosy for at fortælle, at Friedhelms tilstand var forværret. Han skulle muligvis flyves til et hospital i Dar es Salaam eller Nairobi. Hun havde glemt deres pas, så Torkild besluttede at hente passene og køre til hospitalet sammen med vores chauffør, Hilary, for at se, hvordan han kunne hjælpe.
 
Lægen havde i mellemtiden snakket med Rosy og frarådet at flytte Friedhelm, da hans tilstand var yderst kritisk. Problemet på de fleste hospitaler i Tanzania er, at man ikke har respiratorer. Det var det, de manglede til Friedhelm.
 
Ved middagstid dagen efter, Torkild var kommet frem til hospitalet, sov Friedhelm stille og fredfyldt ind.
 
Sikke et chok for hans kone, som ikke havde nogen fra familien omkring sig. Hun begyndte straks at ringe til børnene for at fortælle, at deres far var gået bort.
 
Liget skulle flyttes fra hospitalet inden aften samme dag, da de ikke har noget kølehus til opbevaring. Hilary kørte liget i Friedhelms bil, og Torkild tog Rosy med i vo¬res bil. De kørte til et hospital i Arusha, hvor Friedhelm kom på køl. 
 
Derefter blev bilen desinficeret indvendig, og Hilary blev også sprøjtet over med denne væske. Han kom helt våd hjem til mig om aftenen og spurgte: "Åh, mama, må jeg ikke få et hurtigt bad og låne noget tørt tøj?" 
 
Friedhelm havde tidligere givet udtryk for, at han gerne ville begraves i Tanzania. Han fik sådan en flot begra¬velse – en konge værdig. Han blev begravet ved vores FPCT-kirke i Ngaramtoni; det er den lokale kirke, vi samarbejder med.
 
Han efterlader sig kone og 4 børn. En af sønnerne kom for at deltage i begravelsen.
 

  

 
 
Our German friends and neighbors, Friedhelm and Rosy fell ill (you probably remember that we wrote about Friedhelm many times. He built several churches with the help of Torkild in large parts of Tanzania). Rosy wrote to us to hear how we were doing because they had gotten a temperature and felt bad. Their maid was very ill with covid-19. Seemingly, she had passed it on to Friedhelm and Rosy.
 
I immediately suggested that they saw a doctor, but Rosy said Friedhelm was so sick that he could not sit in a car to get to the doctor. Finally, the doctor instead came to their house. Friedhelm was admitted to a missionary hospital approx. 150 km from Arusha with doctors from the West. 
 
The day after Torkild's return Rosy called and said that Friedhelm's condition had worsened. Possibly he would be taken by plane to a hospital in Dar es Salaam or Nairobi. She had forgotten their passports so Torkild decided to take the passports to the hospital with our driver, Hilary to see if he could help.
 
In the meantime, the doctor had talked to Rosy and advised her not to move Friedhelm as his condition was extremely critical. The problem is that most Tanzanian hospitals do not have any respirators. And they needed one for Friedhelm.
 
At noon the following day after Torkild had arrived in the hospital, Friedhelm passed away, quietly and peacefully.
 
It was big a shock to his wife who had no relatives around her. She immediately began calling the children to inform them of their father's passing. 
 

The body had to be moved from the hospital before evening on the same day, as they have no cooling rooms. Hilary drove the body in Friedhelm's car and Torkild took Rosy in our car. They drove to a hospital in Arusha where Friedhelm was put in a cooler. 
 
Friedhelm had earlier expressed that he wanted to be buried in Tanzania. He received a truly royal funeral. He was buried at our FPCT church in Ngaramtoni, which is the local church that we work with.
 
He leaves behind his wife and four children. One of the sons came to be a part of the funeral.

 
  

    [post_title] => Et stort tab for os og TanzaniaA big loss for us and for Tanzania
    [post_excerpt] => 
    [post_status] => publish
    [comment_status] => closed
    [ping_status] => open
    [post_password] => 
    [post_name] => et-stort-tab-for-os-og-tanzania
    [to_ping] => 
    [pinged] => 
    [post_modified] => 2021-09-19 13:30:18
    [post_modified_gmt] => 2021-09-19 11:30:18
    [post_content_filtered] => 
    [post_parent] => 0
    [guid] => https://mission-tanzania.dk/?p=5080
    [menu_order] => 0
    [post_type] => post
    [post_mime_type] => 
    [comment_count] => 0
    [filter] => raw
)

Latest news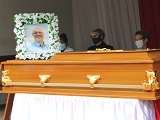 During the week when Torkild was away something happened that shook us deeply.

Read more...
Categories
Archives