Dear faithful friends,

We just visited a very poor family of five persons in Arusha's slum in a grounded room of only 3 x 4 meters. The reason for their situation is that the father became unemployed. He had a good job at a small restaurant where he worked for a number of years. Unfortunately, the restaurant was closed due to too few customers and a bad financial situation.

It was so sad to see the small room that served as a living room, kitchen and bedroom. It was so packed that one could not walk around in there but just sit on the bed where all five of them sleep.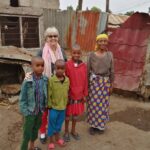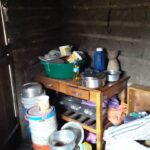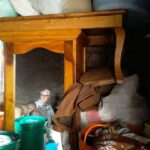 They have three lovely children aged 7, 9 and 11, two of whom go to private school. The 7-year-old boy is unfortunately deaf-mute and goes to a special school. The two oldest are in 4th and 5th grade. Unfortunately, they are behind in school fees, so the children will be sent home if they do not pay soon. Money for food is also a problem. Often the only eat one meal a day. The day before we arrived, the mother had sent the children to bed without food. It is just so tough. We decided to give them a sum of money so they could get a good meal.

Since February the man tried to find a job, but it is very difficult as there is high unemployment. The mother is a seamstress. She is sitting on the street with her treadmill. But due to the economic situation, many just barely survive. So her business is not going well as many do not have the mon-ey for new clothes.

We want to help this family with some food and with keeping their children in school. If you feel like helping such a family we would be very grateful.

Thank you so much for your faithful support and prayers. We are pleased to be your extended arms in Tanzania.


Love from
Torkild and Tabitha