Christmas 2022
Written 16.12.2022 12:44 under Archive
Dear Friends

We want to wish you all a merry Christmas and a blessed new year.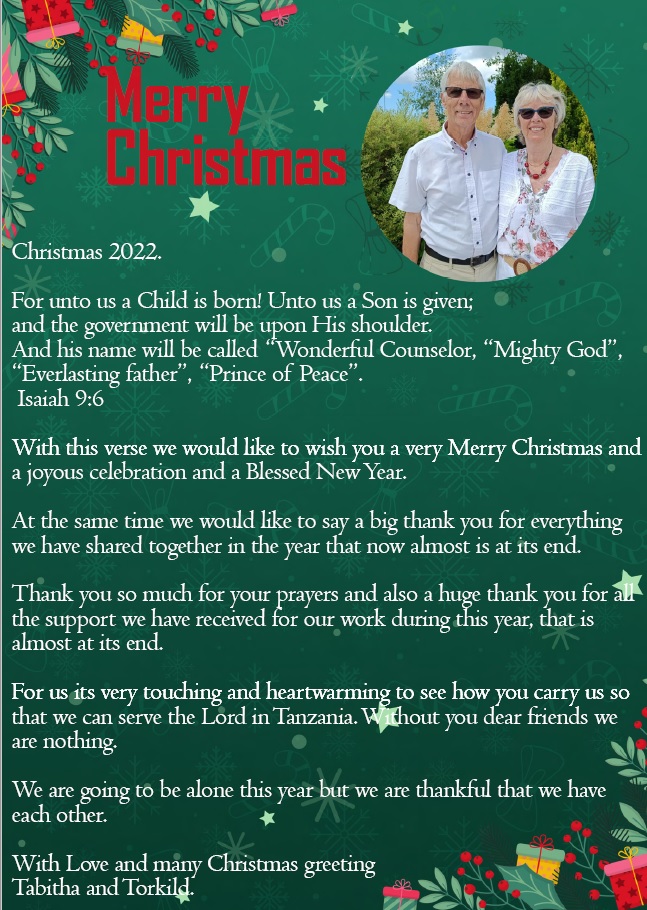 Christmas 2022
WP_Post Object
(
    [ID] => 5284
    [post_author] => 3
    [post_date] => 2023-03-21 13:06:01
    [post_date_gmt] => 2023-03-21 12:06:01
    [post_content] => Vi har været ude at besøge en ung mand, Johnson, og hans onkel ved foden af bjerget Kilimanjaro. We have visited a young man, Johnson, and his uncle at the foot of Mount Kilimanjaro. 
 
Det sidste stykke vej kørte vi på en smal, rød jordvej, som snoede sig imellem bananplanterne. For enden af vejen, der var meget stejl, lå huset, hvor de boede. Hus er måske nok så meget sagt, for Johnson og hans onkel deler et værelse på 7-8 m2. Værelset ligger for enden af et hønsehus og bygningen går ud i et. Der er ikke noget loft i værelset ind til hønsehuset. Lugten var virkelig stram, og så tænker man, "hvordan kan de stakkels mennesker sove i den stank?"
 
Johnson har ingen forældre. Hans mor mistede han for mange år siden, da han var helt lille, og hans far døde i november sidste år. Johnson er enebarn og hans onkel er det eneste familie, han har tilbage.
 
Foruden alle disse udfordringer, så har Johnson også et handicap, da han som lille kom ud for en ulykke i hjemmet. Tjenestepigen i huset havde sat en gryde over ildstedet og var gået udenfor. Johnson havde netop lært at kravle. Han fik sig bevæget hen til ildstedet, hvor han greb fat om grydens håndtag med begge hænder. På hans venstre hånd smeltede den voldsomme varme de små fingre væk, og hans højre hånd er også meget beskadiget.
 
Selvom han har mistet fingrene, er han dygtig til at skrive, og har en flot håndskrift. Han har beholdt hele tommeltotten og det meste af pegefingeren på højre hånd, dermed kan han holde om en blyant.
 
Johnson virker som en god dreng, der er rigtig dygtig i skolen. Men efter hans far er død, er der ingen, der hjælper ham med skolepenge. Uden skolepenge kan han ikke fortsætte i skolen. Onklen har knap nok til dagen og vejen. Det konstaterede vi ved selvsyn, da vi besøgte dem.
 
Vi har nu haft Johnson og hans onkel på besøg hos os for at høre om Johnsons ønsker for fremtiden. Vi har i tro sendt ham videre i Secondary skole. Han bliver 18 år i juli, og mangler to års skolegang for at få en studentereksamen. Hvis du læser dette, og føler for at hjælpe ham til en uddannelse, så er der brug for 6.000 kr. om året til dette formål.
 
  

 


 
The last part of the distance was a small, red dirt road that twisted among the banana plantations. At the end of the very steep road was the house where they lived. House may be an exaggeration because Johnson and his uncle share a room of 7-8 m2. The room is at the end of a hen house and there is just one building. There is no ceiling in the room next to the hen house. The smell was tough and we thought, "How can they sleep in that stench?" 
 
Johnson has no parents. When he was little his mother died and his father died in November of last year. Johnson is an only child and his uncle is the only relative left. 
 
Besides these challenges, Johnson has a handicap. There was an accident in his home when he was little. The housemaid had put a pot on the fireplace and left it to go outside. Johnson just learned to crawl. He moved himself to the fireplace and crabbed the handle of the pot with both hands. On his left hand his little fingers melted away at the extreme heat and his right hand is very damaged as well. 
 
Although he lost his fingers Johnson is a competent writer and has a beautiful handwriting. He retained his thumb and most of the index finger on his right hand so he can hold a pencil. 
 
Johnson seems to be a nice boy and is a very good student. But after his father died there is no one to pay his tuition. Without school fees he cannot continue classes as the uncle can barely make ends meet. That was very evident when we visited their home. 
 
We have met with Johnson and his uncle again to hear about Johnson's wishes for the future. In faith we have sent him on to Secondary school. He will be 18 years in July and has two more years before he graduates. If anyone reading this would like to help support his education there is a need for DKK 6,000 per year for this.
 
  
    [post_title] => En handicappets fremtidThe future of a handicapped
    [post_excerpt] => 
    [post_status] => publish
    [comment_status] => closed
    [ping_status] => open
    [post_password] => 
    [post_name] => en-handicappets-fremtid
    [to_ping] => 
    [pinged] => 
    [post_modified] => 2023-03-21 13:06:01
    [post_modified_gmt] => 2023-03-21 12:06:01
    [post_content_filtered] => 
    [post_parent] => 0
    [guid] => https://mission-tanzania.dk/?p=5284
    [menu_order] => 0
    [post_type] => post
    [post_mime_type] => 
    [comment_count] => 0
    [filter] => raw
)

Latest news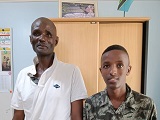 We have visited a young man, Johnson, and his uncle at the foot of Mount Kilimanjaro.

Read more...
Categories
Archives