A New Project.

The village where the love home is located is developing rapidly and has gradually turned into a completely new town.
Children from this town have a long way to school they need to walk up to 5 kilometers each way to attend school. Since there is no school nearby, we believe it will be a good idea to build a Christian school in the area, so that the children can come under a Christian influence.
At present we have planned to build a kindergarten with three classes. Later on we will extend it with more classes.
Our first assignment before construction could begin was to find water. Therefore, we dug a well and after 13 meters we struck water, which was suitable to drink (we took a water sample). A tower has been built, where we can place the water tanks. The tower has been constructed in such a way that an office and a room will be contained on the first floor.
We have built a toilet building with eight toilets and are starting to build a kitchen. Next step will be construction of two classrooms. The first turf has been cut.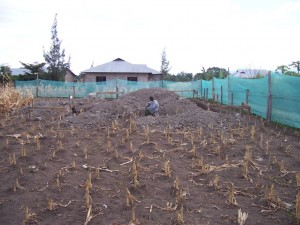 We have received a container there and are building a storeroom for building materials etc. Recently, we bought 100 sacks of cement and a lot of iron since prices for that will go up as per 1st August. These items have been placed in the container.
If possible, we would also like to build a hall that can be used to gather children and parents. It will be a dining hall also. We want to complete all of it this year and we are asking the Lord to bless the funds so that they will be enough.