Pioneering pastor John Ikayo and his wife whom we have known for many years, have planted several churches in Muslim dominated areas.
The last church they established now has 150 members. John and his family have moved on to a new area and the church there has already 72 members. He is being mightily used by God to reach people in places with very little Christian activity. It was this village that Torkild and the team were heading to, when they had the eerie experience in the guest house.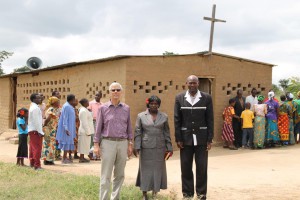 As they arrived at the village where they were to have the children's crusade, they were in for a royal reception. The pastor and his wife and many of the church members met them on the outskirts of the village where they were singing and dancing, and waving some cut off branches. What a reception. The team was deeply moved. Many in the village came out of the huts to see what was happening No one was in doubt that something extraordinary was going to take place during that week.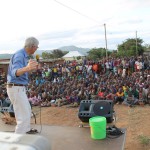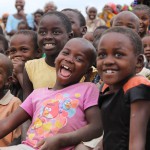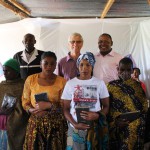 Meetings in the afternoon and evening were all so well attended that Torkild thought there could not be many people left in the cottages. Children as well as adults were very hungry for the word of God. It was such a joy to teach them. On Sunday, seven new believers came to the service and in the afternoon two more people who wanted to become Christians, came to see the pastor. Many children were led in a prayer of salvation. The pastor was very encouraged by the large attendance. He believes in a great harvest and is already working on the follow-up.