We've been the happy receiver of a sum of money to use for gifts for the 115 children in the kinder garden.
After having thought about what to give them, I decided on school bags, which are very important and often difficult for the poor people to buy.
For the remaining money I bought tooth brushes, tooth paste and lollypops.
Before giving out the gifts I shared a text using pictures, where Jesus says: " Let the small children come to me".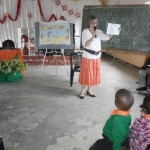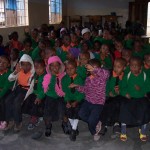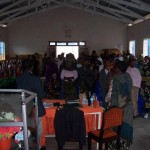 The children were very attentive even though some of them are very young. Their ages range from 4-7 yrs old.
The parents were invited as well. Mostly mothers showed up, but also 2 fathers. They were all very happy to be there and also listened very attentive.
I do believe that 90% of the population is Muslim, so it was a great occasion for us Christians to share God's words with them.
The children were so happy and the parents thanked us so much, which really warmed our hearts.
Pumziko
The church in the slum also runs an orphanage home by the name of "Pumziko". There are 8 children living there, 5 boys and 3 girls whom also got the same gifts as the children in the kinder garden.
Most of their parents have died from AIDS.
The house mother is a widow with 2 children of her own. The house is rented and located in the middle of the slum.