Dear all who has helped give Mama Lightness through this terrible event.
My heart is filled with thanks to our Heavenly Father who did it possible through you to help this dear sister Lightness.
We have seen once again how many "little streams make a big river". I am so touched that I hardly know how to thank you.
Thank you so much for the money gift that you have sent for Lightness and may the Lord richly bless you back.

Here is an update on Lightness´s situation.
They flew her to Dar Es Salaam and she was admitted to a big hospital where they had specialist that could put her jaw back together again. She has gotten it put together again with metal. She has been stitched on the upper lip and a few cm on each side of her lips. She has been stitched up both inside and outside. They had to remove a tooth that had come loose. Her face is very swollen.
We are so grateful that she was not beaten in her brain so that has taken damage. She can speak and think clearly all honor to Jesus. She can still not eat as she is not allowed to chew so she gets fluids
Right now she is out of hospital but needs to come back for checkups.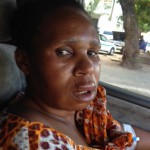 We are so lucky that we have a woman from Wilsons church (Wilson is with Torkild on the childrens campaigns and lives in Dar Es Salaam) so she has taken care of mama Lightness while she was admitted and have now opened her home to her so she can stay there though the last checkups. This woman is trying to spoil her and do so many good things for her.
The children are now back in the village where they are living with a family from the church so that they can go to school every day. They are taken well care of.
This is the latest news on Lightness.

Thank you for remembering this mother and her children in your prayers.
We are really so thankful for you not being tired of us when we keep coming we such requests for help but that you will stand with us! Jesus will give you a big payment in heaven.

Here in Arusha we have had a lot of rain. From Nov. 1st till now we have had 230mm. We really needed the rain very much so we are so grateful. Now everything is once again green and fresh and the air we breathe is so clean and fresh.
Torkild is on a childrens campaign this week. I am sure he would want me to greet you all so much from him too.

With love
Tabitha