In the month of September Friedhelm, Rosy, Torkild and Resti left to inaugurate 7 churches in different villages. They were staying in a guest-house in Singida and drove to the inaugurations from there.
Rosy and Friedhelm are from Germany, but since May 2010 have been living in Arusha. Friedhelm works for Reinhard Bonnke, who's based in Nigeria.
A part from Friedhelm's work with Bonnke, he also works with construction of churches in Tanzania. Once a year they leave for Germany to collect funds for this work.
Singida's located 340 km from Arusha, so in all they drove 1.200km on this trip. They were very happy about not encountering any problems with the car or other.
They'd some wonderful and blessed inaugurations.
Often on Torkild's children campaign in various villages he notices unfinished churches without roofs.
These are generally very expensive so often the congregations don't have money to put on the roof. He then takes photos of these and bring them with him back to show to Friedhelm, whom he knows has a great vocation for this.
Kisaki 8 km from Singida:
Lohoda 100 km fromSingida, where Torkild plans to have a campaign :
Makiungu 30 km from Singida: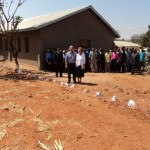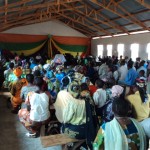 Mtipa 4 km from Singida. The pastor and his family in this village are very very poor, and we decided to give them money for food for the next 6 months:
Mwachichi 15 km from Singida:
Nambaro 3 km from Singida: