Another mother mistreated

There is a young mother named Mama Eunice, who is married and has two children.
Both children attend our school and are sponsored by Denmark. When I recently came out to the school, Mama Eunice sat at a table in the dining room looking terrified. She had fled at night to the school, just wearing panties and a kanga around her since the husband had beaten her to pieces and taken a stranglehold on her. She had marks on her neck from his fingers and stripes on the cheek from his fingernails. It was obvious that she had suffered abuse. This is the second time he has been cruel to her and now she will not go back to him.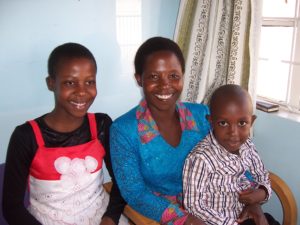 The man said she had been unfaithful to him and that the boy was not his son. He also said that he would kill both her and the boy. The big girl, Eunice, heard the parents' quarreling and got up to find out what was happening. When the father saw her, he shouted: "What do you want?" The girl replied, "I am thirsty and want a drink." This derived his attention and the mother was able to run out of the house.

Fortunately, he sent the children to school the next day, so we kept both mother and child. The authorities have denied him access to them. She has filed a police report so he cannot expect to get the children. The man is furious that the children would rather be with their mother.

We have promised to help her, so she will not be back with him again. We have previously brokered between them, but unfortunately without any success (e.g. because he has had relationships with other women).

Mama Eunice is a very competent woman. She said to me the other day: "I don't mind working as a horse as long as I don't have to return to my husband, because he is so evil."


Tabitha